The best wholesale shopping malls in China
Do you know what the best way of wholesale shopping from China is?
In first place fining a reliable supplier and wholesaler of made-in-China goods is a key step in the successful development of your business. Today, in this article we have made a comprehensive list of the most reliable suppliers and we have also shown you how you can find reliable Chinese wholesalers.
What website is suitable when it comes to wholesale shopping from China?
As you can see below, there are 3 popular platforms of Electronic trade which operate as Chinese online wholesale website and can be used for major import from China:
Alibaba
Global recourses
Made in china.com
There are some important differences between these three.
Firstly, Alibaba has listed many more suppliers compared to the other two platforms and it also provides a wide range of services such as online exhibitions in which you can buy wholesale products. However the quality of goods supplied by Alibaba is low. Due to the global trade development, more suppliers from other countries are selling their products on Alibaba.
As it has been experienced Alibaba is much more famous than the other two platforms and at the same time it has got a more complex trade process. Therefore before you buy anything on Alibaba you should make sure that you have spent enough time learning how to protect your rights and interests in making the contract with the seller.
Global Recourses and made in china.com focus on electronic devices, mobile phones and appliance. So they are the best options for shopping in these fields.
In addition, the prices on Global Recourses is higher than those on Alibaba. We will guide you in buying wholesale products from China by introducing a number of Chinese wholesale websites. If you intend to buy wholesale goods from China on any websites IRdelivery will do all the stages for you including purchasing, warehousing, importing, sea and airway transport and delivering anywhere in Iran or any other parts of the world. Stay with us till the end of this article.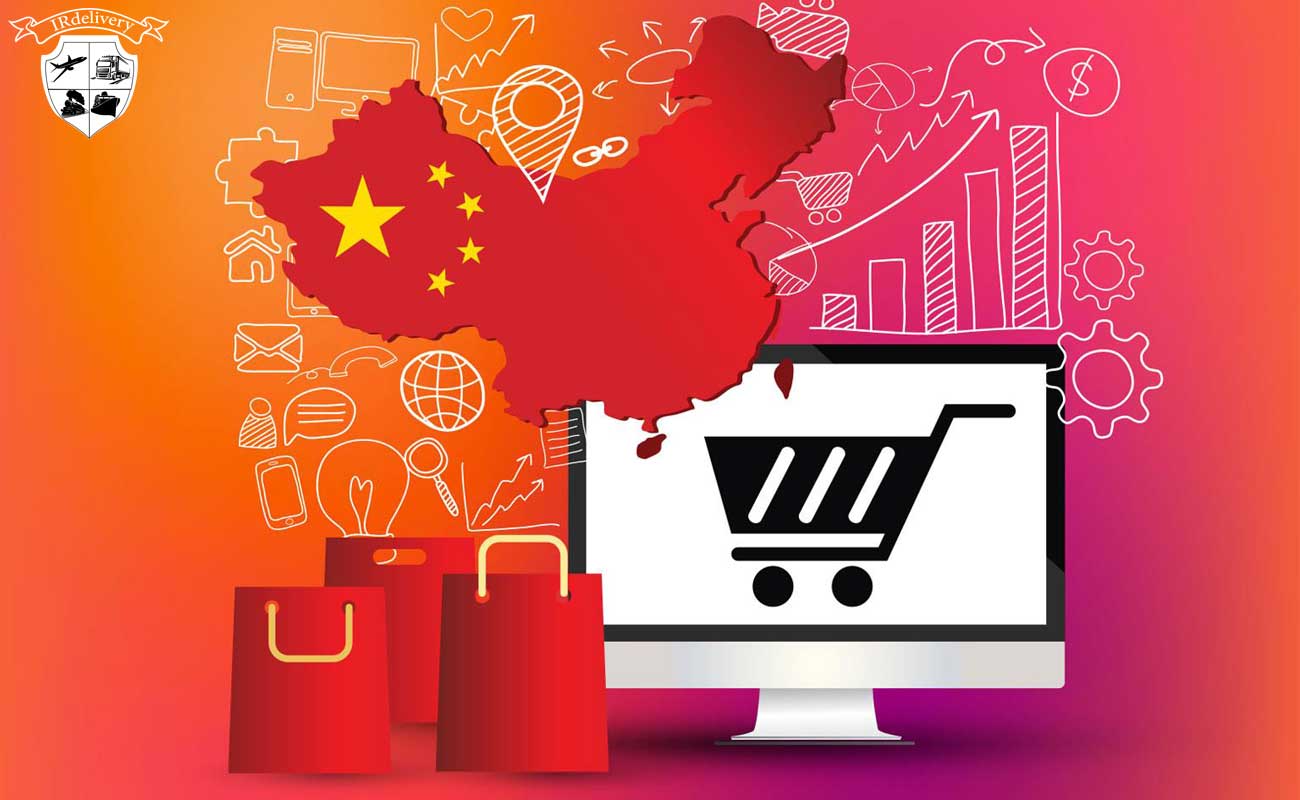 Wholesale shopping from China using Alibaba
Alibaba will be the best way to find Chinese sellers and do wholesale shopping, if you cannot travel to China to visit exhibitions.
Alibaba is a search engine for Chinese wholesalers and you can have access to many providers.
You only have to type what you want in the search tab and Alibaba will show you a list of providers, prices and the least possible amount of order. After you have contacted you can order a sample and so on. In addition Alibaba offers a trade guarantee service which is a fiduciary service in order to protect your orders.
the only thing that may seem problematic while trying to find wholesaler on Alibaba is the long process therefore you need to be patient while working with providers. As an example it can take a few weeks from making the first call to receiving the sample product. Moreover, this process can be more challenging when it comes to language barriers because you should describe the product you want to produce in E-mails and video chats.
Another key difference between using sites like Alibaba and attending business exhibitions in order to do wholesale purchases is that services like Alibaba often include many intermediaries or trading companies.
As there are many sellers on Alibaba many wholesalers do not put their high-quality products on this website. However Alibaba is still the first website for wholesale purchases from China and internationally reliable. You can find more details about this website in Alibaba analysis page.
If you intend to do your wholesale purchases from China by means of Alibaba, IRdelivery will do all the steps including buying, signing contract, payment, transport, warehousing, custom clearance and delivery for you.
Wholesale shopping from China using Madeinchina.com
Unlike many B2B markets in China this website is loaded faster and offers you a wider range of products. In addition, this website offers you the products you may desire as the result of your search. All the sellers on this website are from China and there are no international sellers among them.
Advantages
Easier to validate Chinese wholesalers through their profiles.
Online, direct contact with providers of products.
Mainly suitable for doing wholesale purchases from China in the field of consumers, apparel, accessories, handicrafts, transportation, other goods, electronics, machinery and other industrial supplies.
Disadvantages
There are not many sellers and a wide variety of products.
Watch out! If you are buying an original brand or product, you should request a document or certificate from the Chinese wholesaler to confirm the authenticity of the product.
Result: this is more suitable for well-experienced buyers and importers.
You can find more information about madeinchina.com in madeinchina.com analysis page.
Contact us if you wish to buy wholesale purchases from madinchina.com.
Wholesale purchases from China through Global Sources website
Global Sources is a B2B market located in Hong Kong. This multi-channel company facilitates trade from China to the rest of the world by providing buyers with source information. It also offers integrated marketing services to the wholesalers. The company does this in a number of ways, including having a list of popular categories and trade exhibitions for buyers and traders.
Advantages
It is easy to find best providers for wholesale shopping from China.
Online and offline support is available for both buyers and providers.
Most of the products are electronics and gifts
Disadvantages
Conclusion: those who intend to do wholesale purchases and professional buyers and importers find it suitable.
AliExpress against DHgate
Both DHgate and AliExpress market for small Chinese wholesalers and retailer websites. The closest comparison can be done to eBay in the United States. When you buy something from AliExpress or DHgate they process your purchase and providers send your products. In addition, both DHgate and AliExpress offer a money-back guarantee on all purchases.
Products on AliExpress and DHgate are usually more expensive than those of the producers'. But the major advantage is that there are always enough inventory.
Wholesale shopping from China through AliExpress
AliExpress is an online retail service owned by Alibaba group and located in China. This website connects Chinese sellers to buyers from all over the world. You can also find sellers who offer wholesale products on AliExpress. This website is a great resource for buyers looking for small orders or those who intend to sell locally.
Advantages
Shipping costs are cheap and sometimes free.
It is easy to buy from.
You can repay easily.
Disadvantages
Shipping is slow-paced
Too many intermediaries
Conclusion: it is suitable for those who own small businesses.
China DHgate website
Dhgate.com is a Chinese company that conducts business to customer and international B2B services. This facilitates trade between small and medium sellers and buyers and wholesale purchase from China. Although the site design may look a little unappealing, it has a wide selection of products in different categories. Just like Alibaba you will find similar products on this platform offered at different prices.
Advantages
Prices vary depending on the quantity of your order.
You can shop easily.
Disadvantages
Low quality
Low variety of products
Most types of goods: electronic products and clothing.
Conclusion: it is good for small businesses in the field of electronics and clothing.
Bulk purchase of goods from China on 1688 website
1688 which is a subsidiary of Alibaba group, is a reference of suppliers and wholesalers in China. 1688 is roughly similar to Alibaba.com except for that 1688 mainly serves Chinese companies.
The entire website is in Chinese language. So you have to use Google Translate or find someone who can read Chinese to help you find a supplier to buy bulk cargo from China on this website.
You may be asking yourself, why should you buy from a website which is entirely in Chinese?! This is because Chinese wholesalers sometimes show an inherent bias against foreigners when offering prices on Alibaba!
In other words, sometimes the same wholesaler you find on Alibaba offers higher prices for foreign companies than those of 1688 site. You can be sure that you have found the best price to buy by checking the prices on 1688. Generally, you can work with Alibaba and 1688 at the same time to make sure that you have found the lowest price.
Advantages
Complete categories of Chinese products
The best way to find real manufacturer to buy bulk cargos from China
Lowest price for the same products compared to other websites
Disadvantages
You must be fluent in Chinese or hire a translator
Payment security
Restrictions on returning goods
Conclusion: it is a great choice for those who intend to buy Chinese products at the lowest price.
Read 1688 online store review page to find the details of this online store for bulk buying from China.
If you intend to buy bulk goods from China through 1688 website, you can use services provided by IRdelivery. Contact us for more information.
Buy bulk cargo from China through LightinTheBox.com
This online store is another site for buying bulk goods from China and its head office is also located in China. This website is really simple. Some of the most used electronic equipment is available on this website. Goods are shipped worldwide and you can use it to buy bulk cargo from China. If you buy the goods in bulk they will consider good prices for you.
Buy bulk cargo from China through Sheln.com online store.
If you are looking for buying bulk from china in the field of women's clothing Sheln.com is suitable for you. Sheln.com mainly deals with women's fashion and accessories. The variety of its products is great. You can order shoes, bags, clothes, etc. through this website. If you wish to open a shop related to women's fashion, buying bulk goods from China through Sheln.com is a good option for you.
Gearbest.com Chinese wholesaling
Technology is the most important industry in China's manufacturing market. Therefore some Chinese wholesale websites are dedicated to providing these electronic products, gadgets and other technology to the world. If you are planning to buy bulk goods in the field of technology this is the right site for you. Gearbest has become one of the most important resources of this industry by opening an online wholesale marketplace. Drones, mobile phones and watches are some of its products. But this site has not neglected fashion and clothing. They have most of what you need and they offer their products at great prices. Clothes, cosmetics, bags, shoes, etc. are all available on the website, and you can definitely find what you want to buy bulk from China.
Banggood.com website
Banggood is a website for bulk shopping from China that offers a variety of Chinese products at competitive prices. Electronic products, clothing, gardening supplies, home appliances, mobile phones and accessories, sport and outdoor gadgets, etc. are available in this store.
YiwuGo.com and Chinagoods.com wholesaling websites
Here are two websites for buying bulk goods from China, you can order a wide range of goods to import. The prices of these two websites are low, but sometimes the quality of products are low too. Chinagoods.com is the official website of Yiwu Market. This Chinese-product website serves 2 million small and medium companies in the industrial sector and has 75.000 physical stores in the international market.   
Wholesale purchasing from China through TBDress.com
This website is actually a cosmetics wholesaling in China which also specializes in clothing manufacturing. They also have a shoe and accessories section on their website. In addition to the website you can also access it through the application. It is worth mentioning that this website has a wholesale plan for bulk buyer.
DX.com online shop
This Chinese wholesaling website specializes in gadgets and electronics. However like all the other Chinese wholesaling markets you can find a lot of goods here. There are also several brands that cooperate with them in order to sell their products. This website offers a wholesale plan as well as various shipment options.
The fashion and apparel section is really good and provides you with a fast and hassle-free shipment.
TomTop online shop
TomTop is an amazing wholesaling website which is suitable for buying variety of products. Some prices include discounts on apparel, electronics and household items. Their wholesale plan is also good and they offer up to 20 percent discount on the products. If you buy in bulk and have large packages, you have the bonus of free shipment. This company also has its own delivery facilities. This website is also suitable for ordering cosmetics and beauty products.
Zaful online store
This online store operates in the field of women's clothing and is a suitable choice for bulk purchases from China. They sell many of women's fashion at an adorable price. Their business is completely clear and can also feel it on their website. Most recently, this store has added some collections of men's fashion on its website for sale.
Bulk purchase from China on Chinabrand website
Chinabrand is one the leading Chinese wholesaling website. The site covers a wide and complete range of products and most of the products descriptions are really well-written. It also offers one-step delivery service. It also works with all international online stores including: Amazon, eBay, Shopify, Lazada, Shopping and Aliexpress.
Bulk purchases from China at Chinese exhibitions
Now that you are familiar with some sources of buying bulk from China you must know that it is not the End of the story! one of the best ways to find suppliers and buy bulk products from China is attend Guangzhou Import and Export fair. Although this method is not online, it is one the most popular ones with traders.
The Canton Fair is held twice a year in Guangzhou, China, and is one of the largest sourcing fairs in the world. Global Source is another major exhibition, like Canton, where business owners from all round the world gather together twice a year.
There is a good point about Global Sources and that is, this exhibition is held right before the Canton fair, so you can simply attend both Exhibitions in one trip!
Global Sources includes Chinese wholesale suppliers in certain critical categories such as electronics and fashion.
Buyers interested in specific products, especially industrial ones may look for trade exhibition in China. These are only two of the common exhibitions in China.
You can contact us to get the latest information about exhibitions in China. Added to that we also provide you with counselling services that can help you choose the best exhibition related to your business.
Tips on online, wholesale shopping from China
Although importing goods from China is the best way to get high-quality products at the lowest possible prices, the process of buying bulk from China and importing them may come with challenges. In the following part you can find a brief overview of importing goods from China and there are also some tips for buying bulk from China.
Long production time

Most Chinese wholesalers will not start manufacturing your products until you place an order and pay a small deposit. Depending on the type of you products you need to wait from 1 – 4 month to get your goods produced.  Rarely do the suppliers have inventory and most items are made when you place your order, so you will need to plan ahead.

When ordering from a Chinese online Wholesale store, it may take 1-3 months till the goods are delivered. So always manage your needs and plan ahead.
Minimum order quantity

Some sellers require you to order a certain amount of goods and you cannot order less than that amount. This is more common among wholesalers. You need to know that each manufacturer has their own minimum order quantity and you should make sure that you discuss this before ordering.

If you are just starting out make sure that you check a sample before you place your wholesale order. In any case, the minimum order amount is negotiable and you can discuss it with the Chinese wholesaler.
Terms of payment

When sending money to Chine, most manufacturer would ask for payment by money order. In addition, you usually need to pay some money, usually 30 percent, in advance as a deposit and pay the full amount once your goods are ready.

But how can we send money to China? Due to the conditions and restrictions against Iran at the international level, sometimes money transfer to China may have some challenges. IRdelivery can help you in this case and pay your funds as soon as possible.
Quality Control

Quality control is often an important issue so you need to tell the supplier or manufacturer about what you exactly want. In general, hiring an expert to inspect your goods in the factory would be really beneficial.  Note that after doing the purchase and once your goods are shipped, there is no much you can do if your goods are defective.

We can make sure that your goods are healthy by the help of our experienced experts in China who would inspect your goods at the factory before they are shipped.  

Contact us for more information. And do not forget that detecting defects in the products from the beginning will save you from many problems in the future.
Language-related problems while buying bulk from China

Many Chinese suppliers do not speak English well. Everything would be simple to do as long as you communicate via emails and chats.

But how can we communicate with a Chinese wholesaler? Many salespeople are better at reading in English on websites than speaking in a call or face-to-face chat. Therefore you can contact your suppliers via WeChat, email or Skype. However you can also communicate with Chinese salespeople by the help of our interpreters.
6 necessary questions you need to ask the seller when buying bulk from China, online!
Buying bulk from China, online can seem intimidating. You will not be able to meet them in person or see their merchandise, but there are some ways around these challenges. Before doing the purchase you should ask the seller a few questions to make sure that the products is reliable and meets your needs.
1- Can you provide a copy of your business license or any other necessary certifications?
When contacting sellers you should make sure that they are trustworthy. Asking for proof of their business and any approved licenses will help you do your shopping with more confidence.
2 – What are the product details?
When buying bulk from China ask the seller as much information about the product as possible. Ask for detailed information on specifications, packaging and materials used. Ask them to send you a few photos of the product. Try to get the answers to the question you ask the seller as much as you can.
3- How much is the sample price?
If a sample is requested the seller must not have any problems with sending it. Before placing your orders and buying bulk from China, the seller must send you one or two product sample to check. You should also ask them for the price of the samples. Due to shipping cost of small orders, single purchase price may be higher than bulk order.
4- What is the minimum order quantity, MOQ, of your products?
MOQ is the minimum number of items you can purchase at once. Even if the seller has mentioned the MOQ on their page, ask them about it. MOQ is usually negotiable. If the price is more than what you have expected you can ask if it is possible to lower the price by buying more items. Keep in mind that buying more can lower the price.
5- What are the terms of transportation?
Transportation terms usually confuses buyers. Some acronyms significantly affect your shipping process and define who pays what part of the shipping cost, and when the sellers' responsibility for the products health is transferred to the buyer. Search about it yourself and also ask the seller about the shipping terms that cost you the least. If you get a vague answer to any of your questions please do not hesitate to keep asking and do not let any of your questions that help you to decide remain unanswered. Asking a series of questions will help you decide of the seller is the right one to do business with or not, and it also shows you if they are able to manufacture your products accurately based on your specifications.
6- Other questions
The exact time by which your products will be manufactured can help you plan better when it comes to buying bulk from China. Choosing a payment method and tracking your order are all the things you need to consider.
3 tips to become a professional customer when buying bulk from China
Here are some tips on how to absorb Chinese wholesalers, these tips can help you in the process of online business and bulk buying from China.
1- Don not exaggerate in your business
Do not say "you must trade with me because I can buy a million pieces" unless you can actually buy a million pieces!
Believe me! Chinese wholesalers and suppliers have heard such things too much. They have enough experience to verify you real purpose. Be honest and do not try to deceive the seller with your words. When suppliers gradually see the clarity of your business, they will also be willing to maintain a good long-term cooperation with you.
2- Tell suppliers who you are
Introduce yourself fully! Preferably, try to tell them about your business very briefly in almost a minute. A short introduction will undoubtedly make you look more professional. For example, say: "we have been in this business for X years. We cooperate with large retailers. We are eager to develop our business methods. We are looking for a suitable manufacturing partner for a long-term cooperation, etc."
You need to explain completely so that they are able to offer you a good price buy knowing about your business.
3 – While buying bulk from China do not blindly look for cheapskates!
What everyone is looking for is the right price along with good quality! You can always find the cheapest products in Chinese wholesaling websites. However, do not forget that many of these products are waste of money so do not sacrifice quality for lower price.
How to buy on Chinese wholesaling websites?
The simplest way to buy bulk goods from Chinese online stores is find the suitable supplier. Then you need to check the samples so that you can decide on the final products you want. Then you can buy the products and begin the process of importing them to your country.
IRdelivery will do all the steps needed in buying bulk from China and deliver your products right at your desired location.
Pay attention to the following points when buying bulk goods from China:
Find suitable products
Check your country importing rules and regulations
Spot the location of you Chinese supplier and do not buy from those who do not have any addresses
Work out the total cost of shipment
Delegate the shipment responsibility to a reliable company  
How to choose the best website for buying bulk goods from China?
What is the best wholesaling website in China? The websites we introduced you are the biggest sources of buying bulk goods in China. However the ways buyers prefer to buy their bulk goods from China differ person to person.
In general, you can consider the following 6 features when it comes to realize which website is suitable for you:
Wholesaling nature of the business
Reliable business licenses
The possibility of contacting the Chinese wholesaler
Easy payment method
Economical shipment
Advantages and disadvantages
What is the best product to buy in bulk from China?
As the wages in China is generally lower than those of other countries it would be wise if you import products which are produced at a more expensive final price in your country than China. There are many products which can be put under this category such as apparel, needlework and dry goods. The aforementioned products can be regarded as great options due to low costs of material and manufacturing process as they are hand-made. You can buy them in large quantity from Chinese wholesaling websites.
How to keep ourselves protected against fraud while buying bulk goods from China?
If you want to succeed in your trade you must purchase on a reliable Chinese wholesaling website. You need to make sure that you observe the website rules completely and it sometimes needs time and experience.
In this case you can work with a company in the field of import from China and avoid possible risks of fraud.
Conclusion:
It is not easy to find a reliable wholesaler to buy bulk goods from China. At least there are no suitable tools and knowledge in this field. The only thing you can do is search different websites and choose the best option.
It will be really profitable if you can find a reliable supplier who offers the highest quality at the lowest price. And if you need any help to find Chinese suppliers you can contact us.
It is suggested that you start with a little amount in order to reduce the risks of buying bulk goods online and also to validate the supplier. After the successful purchase you can increase the amount of your order any time.